This bundle of respiratory supportive supplements contains targeted ingredients to help boost immune health, provide antioxidant protection, manage inflammation, help fight infections, assist in detoxication and support respiratory mucosal health.
To help ensure that your nutrient needs are being met, we recommend taking important core supplements, such as a high-quality multivitamin, fish oil, vitamin D, and probiotics, which are featured in the
Pathway Foundational Support Bundle
. This bundle creates a solid base for you to build your respiratory health supplement regimen.
Respiratory Health Bundle: 
(1-month supply)
Allergy Support Plus
- contains a powerful blend of essential nutrients for respiratory protection. Key ingredients include vitamin C, zinc, quercetin, turmeric, nettle, NAC, plus many other synergistic nutrients. This highly effective formula protects against allergens and helps manage inflammation.
1 bottle - 1 capsule 2-3 times daily, preferably between meals
S-Acetyl Glutathione
– provides a highly bioavailable and stable form body's most important antioxidant, glutathione. This protective "master" antioxidant protects cells from oxidative stress, supports immune function, aids in detoxification and has antiviral properties.
1 bottle - 2 capsules daily
Resveratrol Plus
– benefits respiratory and cardiovascular health via its antioxidant, anti-tumor and anti-inflammatory properties. Also included in this formula is grape seed extract, another potent antioxidant and anti-inflammatory plant compound.
1 bottle - 1 capsule 2 times daily
Allergy Support Plus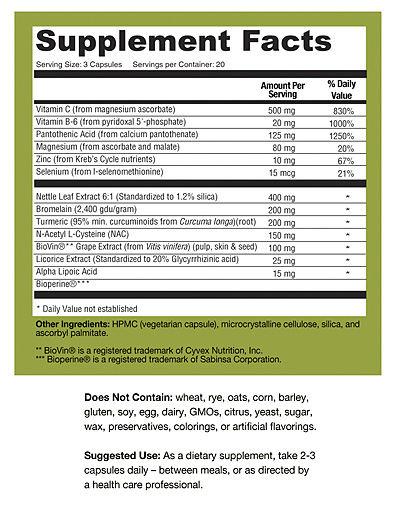 S-Acetyl Glutathione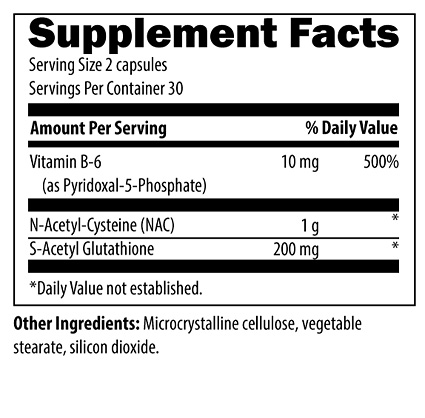 Resveratrol Plus