Description
Supplement Facts
Reviews
Terry Naturally Quercetin with Vitamin C

Quercetin Working at its Fullest Potential
While quercetin is well-known for its potential to support healthy body functions, the fat-soluble flavonoid can also be difficult for the body to absorb.
That's why we've combined quercetin with GammaSorb, a unique delivery system that allows this fat-soluble ingredient to absorb more easily. 

The synergy that Delivers for Immune Support 
Vitamin C can also aid in quercetin absorption, making it even more effective, and it is a key nutrient for healthy immune function.
When it comes to immune support, Quercetin with Vitamin C provides two of the most highly regarded nutrients that consistently deliver.

†Supports healthy levels already within normal range.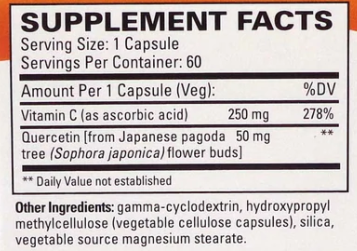 Quercetin
I love this product and will always buy it from this company.



KNOWLEDGEABLE STAFF
Expert pharmacists, nutritionists, herbalists, clinicians, and more.
Personalized guidance tailored to each customer's unique needs.
In-depth knowledge of drug, nutrient, herb interactions and depletions
Our integrative pharmacy offers comprehensive information on nutritional supplements, as well as drug-nutrient and drug-herb interactions and nutrient depletions — information that is not typically provided by most pharmacies. 
CUSTOM COMPOUNDING SOLUTIONS
Unique combinations of drugs and nutrients personalized to you.
Accurate and customized dosages for optimal effectiveness.
Many forms to choose from, including capsules, liquids, creams, and more.
For over 30 years, Village Green Apothecary's compounding pharmacy has excelled in custom formulations of nutrients (vitamins, minerals, amino acids), herbs, and prescription drugs. Our specially trained pharmacists can work with you to meet your unique needs.
IN-DEPTH NUTRITION & WELLNESS CONSULTATIONS
One-on-one consultations, in person or via phone call.
Tailored diet, supplement, and lifestyle recommendations to meet your health goals.
In-depth knowledge of drug, nutrient, herb interactions and depletions
Working with a nutrition expert can help you address your health concerns and support you in achieving your health goals. Utilizing specialty lab testing, such as nutrient analysis, adrenal and hormone tests, and food sensitivity panels, can provide further important insights into your health.
Supporting Thousands On Their
Wellness Path Every Day
Let customers speak for us

FREQUENTLY ASKED QUESTIONS
What makes Village Green different?
Unlike traditional pharmacies and large retail supplement stores, we prioritize personalized care and attention. We take the time to understand your unique health conditions and needs, offering tailored solutions and a wide range of traditional and alternative wellness resources.
As a leading integrative pharmacy, we have over 10,000 nutritional supplements
and natural body care products, books, and more. We offer in-depth nutritional consultations, lab testing, and compounding. Our pharmacists and nutrition experts are well-versed in the nutritional depletions caused by certain medications and can offer insights into potential interactions between drugs, nutrients, and herbs.
Why should I choose Pathway supplements?
Our exclusive Pathway line has been developed by a team of expert pharmacists, nutritionists, and clinicians, combining extensive knowledge of healthy living with high-quality ingredients. We offer excellent value and our frequent sales provide our customers with terrific cost savings.
Our "brick and mortar" location is in Bethesda, MD, conveniently serving the DC Metro area, including Rockville, Kensington, Silver Spring, Takoma Park, Potomac, Chevy Chase, Gaithersburg, Washington DC, and Northern Virginia. Additionally, our website serves customers nationwide.
What is your return policy?
You have a 100-day window to return Pathway supplements for a full refund. Other nutritional supplements: Unopened nutritional supplements are eligible for a full refund within 30 days or a store credit within 100 days. Opened nutritional supplements can be returned for a store credit within 100 days. You may return personal care products within 30 days, provided they are still sealed and in resaleable condition. Please note that the following items cannot be returned: refrigerated items, books, over-the-counter (OTC) items, prescriptions and compounds, special order products, and braces/personal wear. If you have any further questions or need assistance, our dedicated customer support team is ready to help. Feel free to reach out to us or refer to our website for more detailed information on the return process.
MORE SUPPLEMENTS FOR A HEALTHIER YOU