Bifidobacteria Synbiotic Capsules
Contains FOS Prebiotic Fiber
5 Billion Probiotic Organisms Per Capsule
4 Strains, Including BB536
Bifidobacteria Colonize Shortly After Birth
WHAT DOES BIFIDUS BALANCE + FOS DO?
Bifidus Balance + FOS promotes healthy intestinal microfloral balance by providing four species of the genus Bifidobacterium. Bifidobacteria are the predominant, beneficial bacteria residing in the colon. FOS is a natural prebiotic fiber that enhances the growth of beneficial probiotic bacteria.
Some products which are fine out of the refrigerator for shipping, may require refrigeration upon arrival or after opening. Please check labels for details.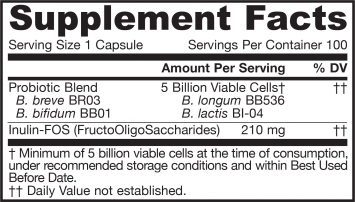 Suggested Usage
Take 1 capsule up to 3 times per day with water and a meal. For infants and children, open capsules and mix contents with water, unheated liquids such as fruit juices, or foods. Or take as directed by your qualified healthcare professional.
Other Ingredients
Maltodextrin, tapioca starch, magnesium stearate (vegetable source), calcium phosphate and ascorbic acid. Capsule consists of gelatin.

Contains: Dairy (milk) and soy (in trace amounts).

No wheat, no gluten, no egg, no fish/shellfish, no peanuts/tree nuts.